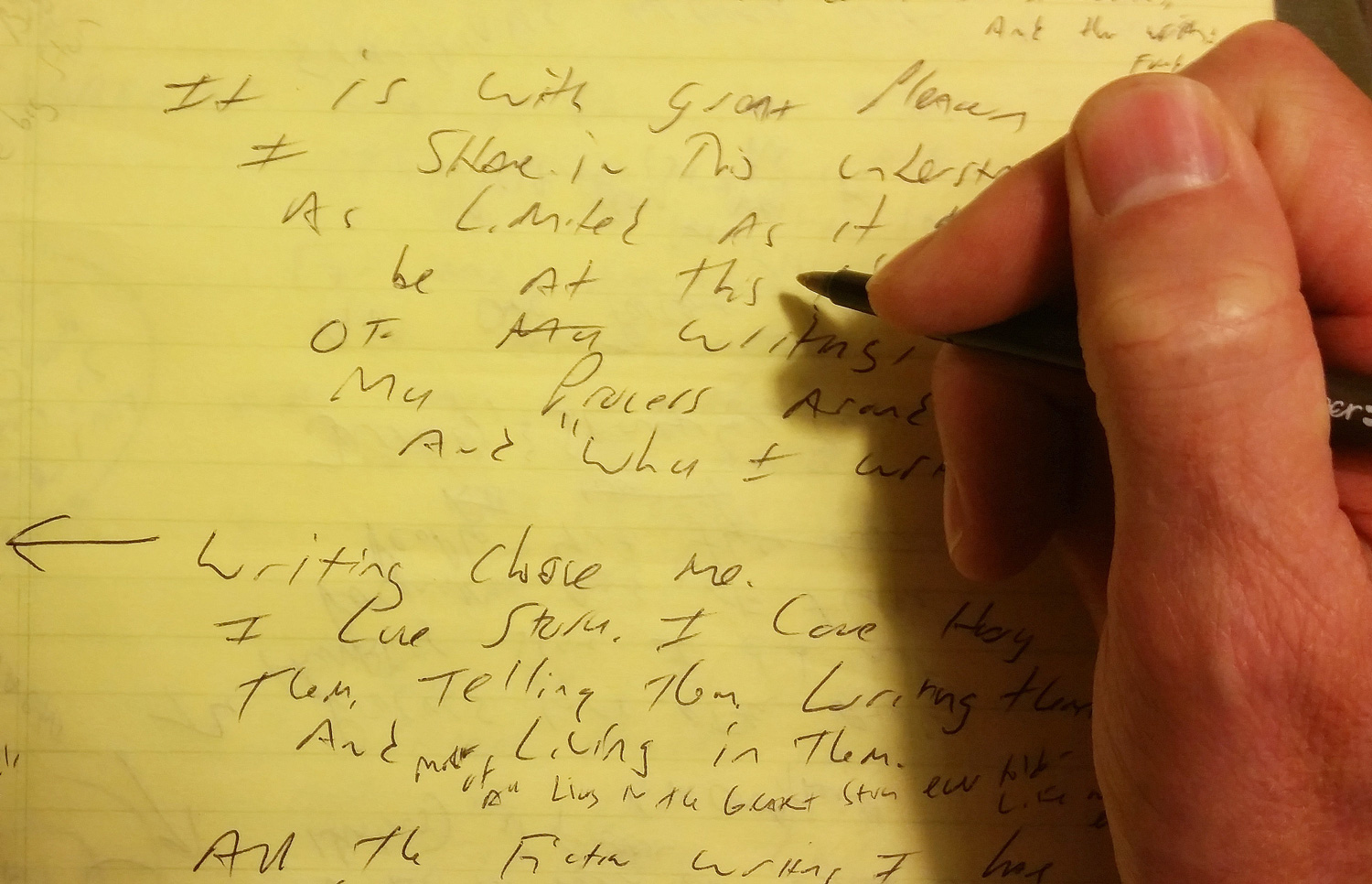 Since many of you have arrived at this site because of something I have written, and since the majority of what I will be sharing on Living The Highest You will come through the written word, I felt it fitting that my first blog post will revolve around this very thing – how I write, why I write, and how it all began.
"The Source."
That was the name of the restaurant I was sitting in on Sunset Boulevard in Los Angeles. I was in my early twenties, studying acting in Hollywood.
Days earlier, a friend from acting class decided he was going to write a short film to perform in. I had been reading screenplays as part of the program but up until that point had never considered writing one (even though a clairvoyant woman told me some months prior that I would be a writer and not an actor) but as my friend mentioned the idea, I felt something light up within me.
That morning, as my pancakes arrived on the patio of The Source, something arrived with them – a story.
It just showed up in my head. All the key elements; the boy, the mother, the baseball, the nickels, and the story's title, and all so clear I had wondered if someone had told it to me.
I grabbed a napkin and began to write. Twenty or so napkins later, I had completed my first screenplay, and my only produced film, a short subject film titled: "Nickels."
I had no idea what just happened. Or how it happened.
I remember looking up and seeing the American actor, Christopher Walken, sweaty and disheveled, drinking a carrot juice in a jogging suit. But before I could blink, he downed his juice and was off running again.
And I remember calling my mother and telling her I had written this little screenplay, and that it just poured through me, and how it reminded me of that feeling of flow that I had experienced years earlier when choreographing posing routines for bodybuilders.
It was an odd but exciting feeling.
So I now had cold pancakes and a story on napkins. It wasn't perfect, and it was before computers, so I would need to find someone to type it, but it was the start of something; something that I would go deeper and deeper into over the next 20+ years, as my spiritual path deepened along with it.
How and why I write.
I love stories. I love hearing them, telling them, writing them, and most of all, living within them. And being that so much of what I have learned in life has come through the work of writers, I have always respected the craft of writing. But I was never interested in becoming a writer. In high school I received praise on one paper that I had written for a sociology class. The praise came not because of any outstanding writing ability, or strong command of the rules of grammar, but rather the teacher chose to reward me for the raw honesty in which I shared.
Over the years, I have taken it upon myself to work extremely hard to learn the craft of writing, more specifically, screenwriting.
All the fiction writing that I have done up to this point, and will continue to do, deals with complex characters who are in one way or another stuck; their journeys are about healing, growing, transforming, often through great inner and outer conflict, and almost always with the help of another.
So the common theme would be "people helping people to become better – healthier, freer, more complete – people." This is what I'm creatively drawn to and what has chosen to express itself through me.
I say "chosen" because much of what I write, including the fiction screenplays, comes from free writing. The word channeling is often connected with this type of writing, but since it comes with a lot of baggage, and can often be confusing, I'll stick to calling it free writing…or stream of consciousness writing.
An idea lands on me, or a question arises in me, or I feel an inner prompting, and then off I go. In the beginning I would create outlines and charts and whatever else I felt was needed – and found this to be very helpful – but as the years progressed, and my understanding of dramatic storytelling and the workings of the craft layered themselves deeper into me, and my own ability to grow more present and connected in the moment increased, my writing became freer.
I often tell people, draft one is a gift, then the work begins. And by work, I mean refining, strengthening, looking for the connections throughout the piece and the theme or themes that are asking to be brought forth. And I also look at where the energy is, what excites me; what will light me up for the months, and at times, years, to come as I work to bring a story to completion.
The process is quite humbling, since I am largely writing about people who I have never met, and who you could say don't exist at all in our reality, yet to me their journeys and struggles are seen, felt and experienced as one hundred percent real, and what they represent is always a mirroring of many people we do know and situations that are universal.
I began writing nonfiction (and books in general) as a way to reach people more directly, rather than having to go through the many channels it takes to birth a movie. I was curious and eager to see how my process of free writing would lend itself to nonfiction writing.
It all began while watching a performance of a play I had written. I knew during the writing of the play itself, and during the viewing of it being brought to life, that I wanted to shift focus and allow myself, and whatever skill sets I had acquired along the path, to be used in a different way.
It was that evening, after viewing the play, that I asked to be used as a vessel for something beautiful and profound to come through me. And it was days later, during a moment of deep relaxation, that I saw in my mind's eye the cover of a book. That book was Mastery: Living The Highest You. It was the first time I had experienced an "inner seeing" like this. And only the cover was revealed, I had no idea what the book would be – or even if it would be fiction or nonfiction. For nearly a month, I waited, wondering. But I never tried to force it. And then one night, it arrived, asking to be written, the words flowing through me with great force and precision. I feel that all the writing and spiritual practice I have done in this lifetime, and perhaps others, has led me to writing Mastery. And I see it as a demonstration of how I may genuinely share more of who I am, and what I believe to be useful and very important truths. But, perhaps even more so, for me, it was an exercise in complete surrender, of fully letting go and trusting, and doing so in the name of service.
So you could say writing found me and I do it with as much dedication and presence as I can. I write for many reasons, but mostly because I feel it is part of what I am here to do. It's my way of learning, teaching and understanding deeper. And… it excites me.
To conclude, I will share this…
A friend once asked me, "When do you feel closest to God?" I responded by saying there are three scenarios in which I feel closest to God (the Absolute or the Divine). The first is when I am in meditation and prayer, the second is when I am meeting a new person for the first time, and the third is when I am writing.
It is during this third one, this experience of writing, and the grace that accompanies it, that I feel I am permitted access into a sliver of the grand and miraculous workings of it all, a place (or state) where I experience myself as both the writer and the written, a place where synchronicities ripple out revealing themselves on many levels beyond my conscious understanding, and often overlapping between my creative world and the physical world, as my pen and I are, for those moments, aligned with and connected to EVERYTHING…a place that many have come to call…the Source.
I hope my written words, whatever form they may arrive in, and the Living The Highest You website, bring something useful and enjoyable to you. And I hope that we can grow together as we collectively contribute to what is surely the greatest story ever told: life on Earth. Let's make it one we're proud of.
Blessings to all,
Glenn