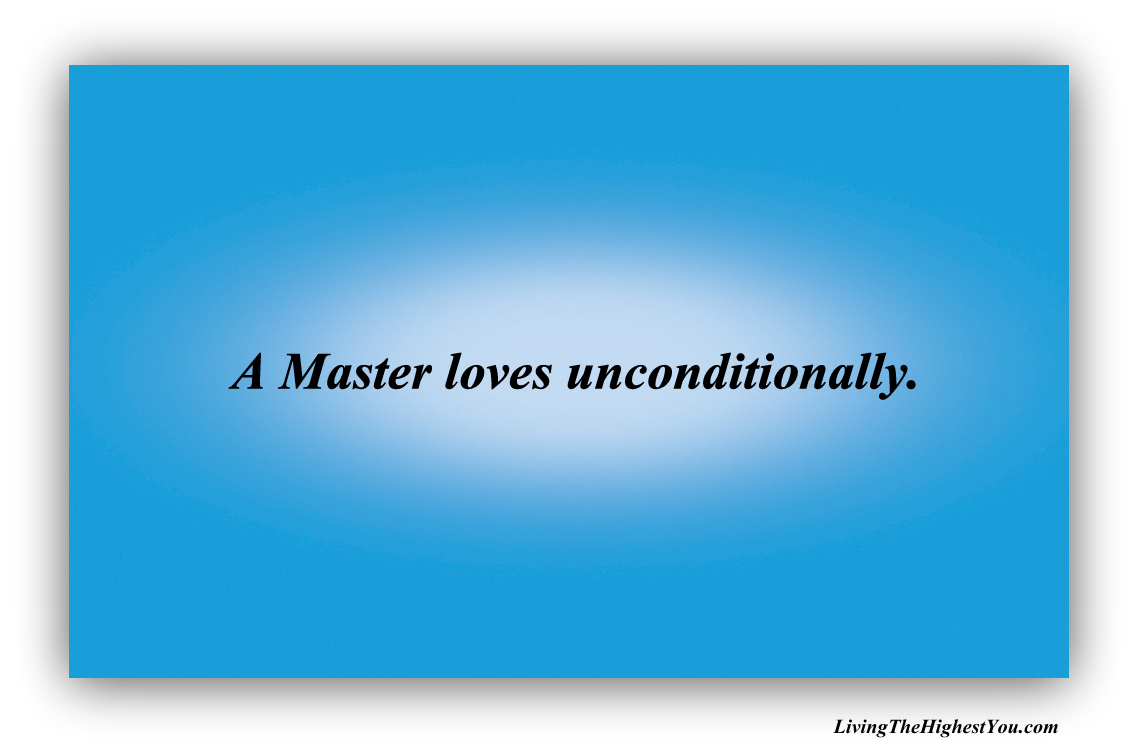 There are 230 individual Mastery passages in "Mastery: Living The Highest You", and the first one is: "A Master loves unconditionally."
Even though the passages arrived in a manner that did not always dictate a specific order, as the book progressed, I felt this passage would lead the way.  Therefore, I feel this adds to the many reason that "A Master loves unconditionally" is the perfect first sharing for the Deeper into Mastery blog section.  After all, there is perhaps no greater attribute to aspire to than to love unconditionally.
Having read "Mastery: Living The Highest You", you understand what it means to live from your higher nature, but what does it mean to love unconditionally – and is it even possible?
It's as simple, and often difficult, as to love another being without conditions, without needing them to change or become more like you, or your version of what is good or right. To love them for any and all perceived shortcomings and idiosyncrasies; which often means to love them just as they are, without a need for that person to evolve or fit into a more comfortable role/place that makes it easy for us to love them. To love no matter what. To love. Period.  Of course this does not mean that we will not offer to help those who are in need, or that we will encourage a behavior that is unhealthy to oneself or others.
How does one love unconditionally? 
Like all things we wish to see manifest in the outer world, it often begins within us. The more we cultivate the ability to love ourselves without conditions, the easier (and more natural) it becomes to love others unconditionally.
No one likes to feel unloved.  Do you? And no one likes to feel judged. But how does one love someone who has caused them great harm, or someone who views the world in a way that is different than their own, or someone whose lifestyle and values are out of alignment with their own?
Loving unconditionally does not mean we have to agree with a person, or even want to share space with that individual, but it does mean that we acknowledge them as the child of God, the divine sister/brother, that they are.  And even if they are acting at the lowest base level, we still must hold onto the knowing that they are "more than their behavior," and we must always acknowledge and look for the light in them.
Does this mean we do not feel anger toward those who perpetrate horrible acts, or wish to help those who are in pain and lashing out? Of course we can feel anger, but we cannot let the anger rule us, nor cloud us from seeing the lessons and higher learning available for ourselves and others. (Also, we must realize that it is only love that will transform or heal these behaviors.  More darkness heaped upon an already dark existence will not bring out more light.)  And we will help others by first acknowledging all that is good in them.
What are the tools?
First, we must see God (or the higher self or soul if it feels more aligned for you) in each person we encounter. When one learns to see the divine in every single being on this planet – no matter how dim their light may be shining in the moment – and sees themselves in everyone they encounter, it becomes much easier to see through the external layers, or the "identity wrapper" that people have wrapped themselves in during this lifetime.
Why does it matter?
If we were to entertain or embrace the thought that each person may not only be playing a perfect role here on Earth, but also in our life, it might allow us to see deeper – to ask different questions and receive different (and profound) revelations about that person, and our relationship to them and our path.
Why would you want to love unconditionally?
Simply to honor the soul, and the soul's path, before you.  To know that it was no accident that this being was born, and that perhaps, like us all, they are here serving a purpose far greater than what we can currently understand.
Is loving unconditionally possible? It's as possible as we choose to make it.
Where to start.
Start with yourself, look for the places within you that are unloved and that are perhaps harshly or unfairly judged, or not yet understood. And love them. And if need be, transform them. Also, take note of the people and things you do feel unconditional love towards. You can then build on this. And let us remember that if we don't yet fully understand our own path, we can't expect to fully understand another's.
We are spiritual beings living a physical existence in a world that often rewards a lack of kindness, compassion and understanding. We must not feed this.  But rather rise above and continually seed and water a new way of being for ALL.
Love truly is the transformative force of this world. Aim for it. Think it. And live it into being.
A Master loves unconditional because the Master knows this is the way to honor life and live the highest possible existence, bringing out the best in all of creation.
There is now a Deeper into Mastery Facebook group for all those who have "Mastery: Living The Highest You".  Follow this link to join us: https://www.facebook.com/groups/742818032485796/